---
F809-2-4000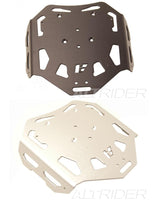 When you install the AltRider Luggage Rack for the F800GS, F700GS, or F650GS2, you know it will meet your needs. We designed it so whether on or off road, you can take along everything you need for your trip. Made from sturdy 3/16 inch (4.75 mm) anodized aluminum and featuring side flanges for extra strength, it's made to carry your load. The rack is uniquely designed with a variety of cut-outs, so you can easily attach your bags with anything from straps to bungee cords to tie downs.
If you want the option of using a top case, the AltRider Luggage Rack provides an interface for the Givi Monokey systems, allowing attachment with a mount kit (sold separately) -- no need for the additional cost of an adapter plate. Carrying additional fuel or water is made easier, too, because the rack was also designed with a Rotopax interface. Worried about riding two-up? No problem, because we kept the comfort of the pillion in mind when creating this piece.
We believe the strong and versatile AltRider Luggage Rack for the BMW F800GS, F700GS or F650GS2 is a good solution for packing smart on your next ride.
Available in Silver or Black
Note: Not compatible with BMW comfort seat, AltRider products cannot be shipped to Canadian addresses.
AltRider F800GS|F700GS|F650GS2 Luggage Rack
Produced by AltRider of USA