---
77122463356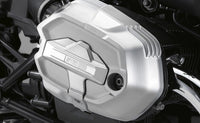 Option 719 gives you a part of BMW history. This number has always been used in our Berlin works for custom-made products. With Option 719 colors and milled parts sets we provide you with exclusive and formative special equipment to make your bike into a highlight on the road.

The highest production quality for your motorcycle.
For the production of Option 719, perfectionists carry out each hand movement and work step with the highest level of precision. Option 719 involves complex production processes and high-quality materials. High-quality surfaces and exclusive designs are testament to the high quality standards. Engineering prowess meets craftsmanship. Making your bike unique. And giving you a character that you can take onto the road. Because Option 719 is the epitome of pure personalization.

Option 719 milled Classic parts give your bike a clear elegance. Its character is identified by a pure aluminium surface, whilst remaining strong-charactered and puristic. The package includes top-quality milled parts made in accordance with the highest BMW Motorrad standards.
Fits 2010-2012 DOHC engines and 2014-2020 RnineT series, not for water-cooled machines or 2021-on RnineT.

BMW R1200 Hexhead OC Option 719 Classic Valve Cover Set
BMW Original Parts