---
77497726105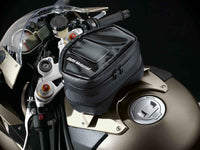 The BMW S1000RR is a superbike/racer by design, but you'll still need a tankbag. Why, you ask? The BMW S1000RR Tankbag makes for a great place to carry a spare diaper, I mean change of shorts! This bike has 193 horsepower, trust me, you'll need one or the other. It reminds me of a quote that I once heard from a local doctor..."Hey Doc, is adrenaline brown?"
Color: Black
Capacity: Main compartment approx. 5 liters
Max Payload: 4.4 lbs.
Material: Strong polyester/polyurethane easy to care for and very washable. Preshaped base made of EVA with soft PU coating to prevent scratches. Reflectors at side for more visibility on the road.
Design: Waterproof main compartment, waterproofing by taped, closable liner. No rain covers needed. Small map compartment in the lid, waterproof, with integral recess for mobile phone and other small items. BMW Motorrad Logtype printed on lid.
Attachment: The railing bolts to the motorcycle. The tankbag attaches to the railing which is included by means of two plastic hooks set in the bottom and is then secured at the front by means of an adjustable plastic buckle.
Supplied completed with installation instructions.
Mount for tankbag
Color: Silver
Material: Aluminum, anodized silver.
Robust aluminum railing.
The anodizing process forms a protective coating that effectively resists corrosion.
Railing bolts to the Airbox-Cover.
May be installed by end customer.
Logo: BMW Motorrad logotype lasered into the railing.
With the molded tank and insane top speed of the S1000RR, go with the factory fit and design that will stay put and hold your valuables safely.
Dimensional weight listed
BMW S1000RR (10-14)|HP4 Tankbag
BMW Original Parts