---
77402446914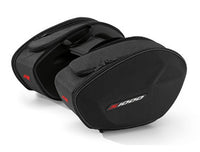 The textile saddlebags offer 10 liters of storage space on each side, expandable to 16 liters. Thanks to its quick-lock holder, the motorcycle can be quickly equipped for touring and restored.
-Textile saddlebags with quick-lock holder
-Hard-wearing shell material made of polyester
-Large main compartment, approximately 10 liters per side, expandable to approximately 16 liters
-Zip fastener around three sides provides good accessibility
-Shape of bag adapted to the rear geometry of the vehicle
-With 2 waterproof, removable liners
-Saddlebags connected together under the passenger seat by Velcro for protection against theft
-Bracket stops the bags flapping or contacting the tyres; quick to fit to and remove from the fixed bracket thanks to their quick-lock design
-Reflecting seams for good visibility
-Practical carry handle
-S 1000 inscription on side, "R" on rear
-Dimensions (LxWxH): approximately 41x18x27 cm (or expanded 41x23x27 cm)
-Colour: black
Fits 2012-2019 S1000RR, S1000R. Dimensional weight listed.
BMW S1000RR (12-19)|S1000R Saddlebag Kit
BMW Motorcycles Original Parts