---
4528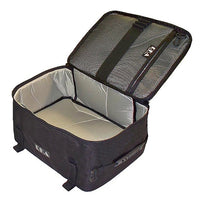 Destination RKA has been around since 1985 making the best luggage we possibly can, with the best functionality, best possible materials and the most pleasing to the eye.
RAIN COVERS are included with both Topper Trunk bag and Topper Saddlebag bags
The Trunk Topper provides 20 liters, 1232 cu in of storage
Completely finished and lined inside with an organizer in the lid for pens, gauges, keys, phone, maps and a handy slotted pocket to carry the included rain cover.
These bags use ALL the possible space on top of your saddlebags and trunk.
These Toppers are made out of a 600 x 300 Denier Polyester Vinyl Laminated PVC, diamond embossed material.
All zippers are YKK.
RKA R1200GS|ADV|F800GS Aluminum Topcase Topper
Produced by RKA of USA