---
ROTO-1-7109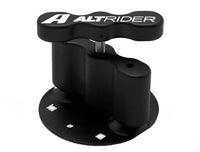 RotopaX Gas and Liquid Packs are rotationally molded for superior strength and a leak-proof design that puts to shame traditional blow-molded carriers, like cheap gas cans. Those traditional gas cans and packs have thinner walls and weaker construction that wear out fast. Their colors fade, and they leak at the cap. RotopaX have solid thick walls and extra threads with a sure-seal gasket, guaranteeing it will not leak or vibrate loose. The rotational molded design strengthens construction and is made from colorfast materials, so they're less prone to fading or wearing out. Hold one in your hands, and you will feel the immense difference in quality over those cheaper liquid cans. The RotopaX packs feel solid, like you could run them over with a truck and they wouldn't leak a drop.
RotopaX ingenious modular system design allows you to customize their two gallon packs in multiple different ways to fit your different needs. Just pop the two plastic clamps off, switch out the two gallon pack with a different one, put the clamps back on and your good to go. It only takes seconds to switch out, and now you've got tools, water, gas, oil, diesel, kerosene, or whatever else you can think to put into one of the two-gallon packs.
RotopaX also attach to a wide array of OEM and after-market mounting brackets, and utilize their own RotopaX mounts for a tight and secure attachment wherever you decide to mount them. The unique design of the packs and the mounts allows them to be stacked on top of the other for a lockable secure fit, even in the bumpiest of conditions.
-Standard Mount for RotopaX Packs
-Rotationally molded for increased strength and colorfast, leak-proof use
-Solid thick walls and extra threads with a sure-seal gasket guarantee it will not leak or vibrate loose
-The exclusive modular system design allows for flexible customization between multiple packs
-Attach to OEM and after-market mounting brackets
-Utilizes own RotopaX mounting system for a lockable, stackable, secure mount of multiple packs
-Lockable system options available
RotopaX Standard Mount
Produced by RotopaX of USA