---
045-5802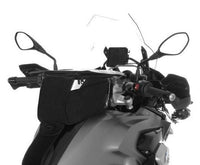 For those who don't like the bulk of a full-sized tank bag sitting on their R1200GS's fuel tank, but still want to have the convenient storage for small items and a map holder, the Touratech low profile tank bag is the perfect piece of luggage for any kind of touring.
Don't settle for a universal fit tank bag on your BMW R1200GS that will slide around, distracting you from your riding. The unique shape of the GS's fuel tank requires a bag that fits properly. The Touratech Low Profile Tankbag is shaped specifically for the water-cooled BMW R1200GS with a mounting kit designed specifically for the bike.
With your R1200GS's panniers and topcase filled with all the camping necessities, it's also great to have a place for quick-access items like maps, sunglasses, wallets, and cameras. Tankbags fill this role perfectly, giving you an up-front storage solution for all your personal items, and a good place to display a map while riding. Touratech tankbags are handcrafted in the Black Forest of Germany out of the finest materials, and boast a long list of features, specifically for touring and adventure riding.
-Custom fit for BMW R1200GS – This tank bag is designed specifically for the BMW R1200GS. Other 'universal' off the shelf tank bags will shift while riding, causing distraction. Because of the specific shape, Touratech tank bags require less mounting material to hold in place, making them easier to remove for fueling.
-High quality Cordura material – Our touring tank bags are made only out of the highest quality materials. Unlike the other manufactures that use standard Nylon, Touratech uses only premium Cordura materials. The certified Cordura fabric, made in Germany, is the same material used in high-end riding suits and is tough and highly abrasion resistant. The Cordura is also treated with a special Teflon coating to protect against dust, moisture, and fading.
-Large removable mapcase – If you're tired of ruining your maps by folding them into all sorts of unique shapes to fit in your tankbag, our tank bag is for you. The large removable mapcase is a standard rectangle shape and allows you to display more of your map while riding.
-Convenient, even off the bike - The Touratech tank bag is convenient even when used off the motorcycle. A large rubberized carry handle makes it comfortable to carry as a hand-bag, and the included straps quickly transform the tank bag into a backpack for hiking and exploring.
-Whether it's a 'round the world adventure or a simple day trip, a Touratech tank bag is the perfect companion for your journey.
The tank bag is water and dust resistant. To fully protect its contents from rain, add the waterproof rain cover below.
-Capacity: 9 liters
-Dimensions (approx): 13.8 x 10.6 x 7.9 inches
-Color: Black w/ reflective accent
-Fits BMW R1200GS 2013-on Water Cooled models
-Made of Teflon Coated Cordura
-Water and dust resistant
-Made in Germany by KAHEDO
Dimensional weight listed
Touratech R1200GS WC (13-) Low Profile Tankbag
Produced by Touratech of Germany