---
045-5168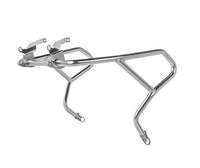 A cracked plastic fairing or leaking radiator, after a simple tip-over, can put a dent in your pride and your wallet. Protect your BMW R1200GS Water Boxer by adding Touratech Upper Crash Bars to your OEM BMW or Touratech engine crash bars.
A vital component of the liquid-cooled boxer engine is its radiator, and while BMW did a good job of keeping it tucked-in and out of the way, the bottom corners are still vulnerable and can become a liability on a long adventure. Touratech Upper Crash Bars keep your radiator protected during a tip-over and also prevent damage to expensive body and fairing pieces on your water-cooled BMW R1200GS.
Made of strong 1-inch diameter stainless steel tubing, these bars are tough and also contribute the adventure aesthetic of this capable machine. Unlike other designs, Touratech crash bars compliment the overall look of the by following the lines of the stylish R1200GS.
The Touratech Upper Crash Bar System is quick and easy to install, and also provides a solid location for mounting lights. They are fully compatible with BMW OEM crash bars, Touratech engine crash bars, and Touratech LED auxiliary lights. If you have BMW OEM LED lights installed, you will need to purchase our adapters (Touratech 25mm Bar Mount for BMW LED Driving Lights (Ea) 045-5200) to mount the lights to the upper crash bars.
Touratech R1200GS WC (17-) Upper Crash Bars
Produced by Touratech of Germany