---
08070095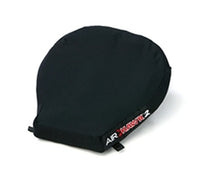 NO MORE NUMB BUTT! The AirHawk 2 is made from polyurethane, a less durable material than neoprene. The difference in price from the AirHawk to the AirHawk 2 is due to the material costs. Neoprene is a more expensive material then polyurethane.
The AirHawk 2's polyurethane material is not as easily repairable if punctured and also does not offer the support and comfort for riders who consistently go longer distances on their bikes.
Dimensions:
Small rider 18" by 12"
Medium rider 14" by 14"
Standard passenger 9" by 11"
Cushion comes standard with cover, attachment loops, and cruiser straps. Cushion Material: Polyurethane Cushion Cover Material: Polyester blend with a non-skid polyester and vinyl base. 1-Year Limited Warranty on cushion 6 Month Limited Warranty on cushion cover.
Dimensional weight is listed.
Airhawk 2 Seat Cushion (Rider or Passenger)
Produced by AirHawk of USA