---
18120242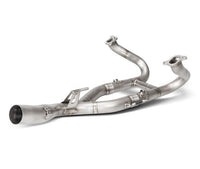 Sale
Optional available headers from the finest titanium offer an upgrade to a full system when used with the Akrapovič Slip-On exhaust system. Let your bike stand out with more power, beautiful design, and the unique Akrapovič sound.
POWER: +4.3kW at 7800 rpm
TORQUE: +3.9Nm at 3850 rpm
WEIGHT: -2.5kg
Dimensional weight listed
NOTE: This item cannot be shipped to California, sorry.
Akrapovic R1200RS WC (16-on)|R WC (15-on) Titanium Header
Produced by Akrapovic of Slovenia