---
F609-0-1101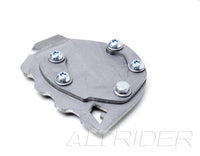 Sale
When you kick down your side stand during a break in your ride, you want to be able to depend on it to keep your BMW from falling. The AltRider Side Stand Foot for the BMW F650GS Twin provides a larger footprint to support the weight of your bike on soft ground.
Made from hefty 1/8 inch stainless steel, this foot features a 3D tread that provides traction for your boots. It is the most ergonomic design on the market, allowing easy deployment of the side stand while still on the bike. The AltRider foot also clamps down on the actual foot of the side stand with Torx fasteners, which means it will remain tight even after months of use. No more rattling or stripped fasteners.
Not compatible with BMW OEM center stand.
Not compatible with factory lowered models.
Note: AltRider products cannot be shipped to Canadian addresses.
AltRider F650GS2 Sidestand Foot
Produced by AltRider of USA