---
R113-2-1105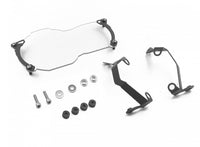 The resilient face of the headlight guard is precision cut from impact-resistant polycarbonate – the same material used in bullet-proof windows. This polycarbonate is formulated with a hardened scratch resistant surface both front and rear. The face attaches to the stainless steel frame with a custom machined aluminum ball and rubber socket connection that provides a sturdy connection free of any vibration. These innovative fasteners make removal of the guard for cleaning a cinch – no tools required. The polycarbonate guard is also interchangeable with all other versions of the AltRider headlight guard.
The stainless steel frame of the polycarbonate headlight guard is anchored on all four corners of the headlight to provide a robust foundation to absorb impacts. Unlike other available headlight guards, installation is simple and doesn't require removal of the blinker stalks or any bodywork. The top is mounted using OEM bolts while the bottom uses provided stainless steel hardware. The metal frame is laser-cut and grain finished. The frame is available in brushed stainless or powdercoat black finish – both are incredibly resistant to rust and weathering. The headlight guard will fit both the halogen and LED headlights.
The AltRider polycarbonate headlight guard also includes a specially designed glare guard. This durable vinyl decal attaches to the wind deflector below the windshield. The refined matte finish prevents light from reflecting off the windshield into the riders eyes.
Please note – while polycarbonate is an incredibly tough material, chemical based cleaners will rapidly break down the material (ex. alcohol, Windex, etc). This is same case for your visor on your helmet. Only warm water and mild soap should be used to clean the polycarbonate headlight guard.
-All AltRider products are 100% designed and manufactured in the USA
-Polycarbonate face resistant to impacts and is specially treated to harden the surface to resist scratches
-Custom machined ball and socket connection allow removal of face without any tools
-Polycarbonate headlight guard interchangeable with all other versions of the AltRider headlight guard
-Stainless steel frame provides strong foundation and is highly resistant to rust and weathering
-Compatible with halogen and LED headlight
-Frame available in brushed stainless and powdercoat black finish
-Compatible with R1200GSW Adventure (installation requires removal of front beak)
Dimensional weight listed, AltRider products cannot be shipped to Canadian addresses.
AltRider R1250GS|R1200GS WC (13-)|R1250GS ADV|ADV WC (14-) Plastic Headlight Guard
Produced by AltRider of USA