---
151720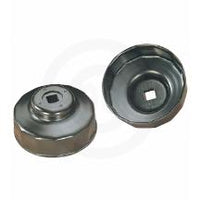 Close-clearance design makes it easier to service hard-to-remove or reach filters.
-Features a 3/8" ratchet mount and 14 full flutes for a firm grip on the filter.
-Great alternative to the expensive OEM Wrench!
Fits: All Boxer WC after the first oil change, all K Series "flying brick" models and R Series 850/1100/1150/1200C models. Also fits F900 series, F800S/ST with black oil filter, F800GS/Adv, F700GS, F650GS twin, K1300/1200S/R/GT models after the first oil change, and S1000RR/R/XR.
Please email info@sierrabmw.com with any questions.
Bikemaster Oil Filter Wrench for BMW Motorcycles (Oilhead, etc.)
Made in the U.S.A.