---
77498543224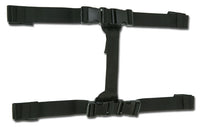 Optional carrying handle kit which can be attached to any piece of BMW aluminum luggage, or any pannier with tie-down loops that will accept the straps!
-Carry handle makes it easy to carry the aluminum case and topcase
-Can also be used to secure items of luggage, e.g. liners, to top of case/topcase
-Includes: 1 handle, 4 straps, instructions
-The straps attach to the eyelets on the case or topcase
Requires one per bag.
BMW Aluminum Luggage Carry Handle
BMW Original Parts