---
Preset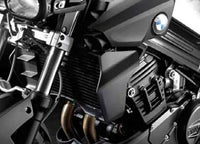 -One-piece radiator shroud made of black plastic.
-Material: Polyamide PA6, impact-resistant.
-Weight: Approx. 2.6 lbs.
-The radiator shroud makes the visual transition to the surround of the intake stubs and frames the radiator. It provides a final sporty touch to the motorcycle's appearance.
-Includes all the mounting hardware, along with the installation instructions.
BMW F800R Radiator Shroud
BMW Original Parts