---
Preset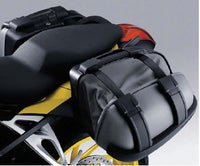 An innovative lightweight design that blends perfectly with the sporting character of the K1300S/R and K1200S/R. Neutral contrasting black/silver color comfortably combines with available K1300S/R and K1200S/R colors. Panniers mount well back on motorcycle, improving passenger foot clearance and enhancing integrated look. Unique multi-form construction offers many advantages. A rugged synthetic main compartment mounts to the motorcycle and includes integrated, aerodynamic luggage handles and latch/lock mechanisms. Pannier lids are of a reinforced flexible material that functions as theft protection and allows the rider to adjust capacity as needed. Included inner bags offer excellent weather protection. A rigid 'cage' is fixed to the lid and forms the outer part of the pannier. Built in ratcheting compression straps simplify packing and ensure the narrowest possible profile regardless of load. Pannier mounting brackets offer easy on-and-off operation while remaining unobtrusive and solid.
Pannier volume is adjustable from – 17 - 25 Liters. Vehicle width varies accordingly from – 34.3" - 42.5"
Each side will accommodate one full face helmet.
Bag weight – 7 lbs. each. Max payload – 17.5 lbs. per bag.
The K1300/1200S/R Sports Pannier System, BMW Motorrad's perfect marriage of super sport and touring.
-Includes Left & Right Bags
-Bag Mounts & Hardware (if you wish, please choose below)
-Codeable Key Locks & Keys
WE'LL EVEN KEY YOUR LOCKS FOR FREE! JUST GIVE US A SHOUT AND SEND US YOUR SPARE KEY!
Dimensional Shipping Weight listed.
BMW K1300S|K1300R|K1200S|K1200R Sports Pannier Kit
2 year warranty
BMW Original Parts