---
77418520303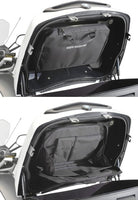 Great topcase organizer for items such as documents, writing instruments, cell phone, lap top, etc.
-Secures inside the top case lid by means of 4 quick-action adapters.
-Items can be conveniently inserted and removed, even when the pouch is inside the top case.
-All-round zip fastener.
-Practical compartments inside.
-2 robust carry handles.
-Dimensions: 14.5 X 8.6 X 1.5 in
-BMW Motorrad logo type.
-Outer material: high-quality polyester weave.
-Color: Black.
-Simultaneous use of topcase organizer and liner inside the top case possible.
BMW K1600GTL|K1600GT|R1250RT|R1200RT WC Topcase Organizer
BMW Motorcycles Original Parts