---
90VS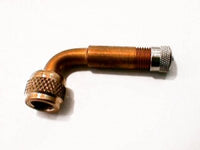 This is the BMW solution to getting at those hard to reach valve stems. Just screw it onto the valve stem and any air hose will fit easily.
-Please note: This piece is designed for convenience use only. It will simplify checking and changing the tire air pressure.
*Do not operate your vehicle with this piece installed as doing so may cause valve stem failure. This failure may cause loss of pressure and control of the vehicle.
BMW Motorrad Brass Angled Valve Stem
BMW Original Parts