---
77318404052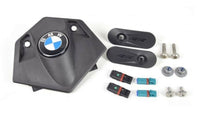 The M cover kit fills openings in the body left by removal of mirrors and the license plate bracket. The front-fairing panel is easily fastened back in place with the mirror caps and provided screws. Made of impact-resistant plastic. Showcases professional attachment of the front fairing and rear tail section. Suitable for racetrack use only.
Includes:
-2 covers to take the place of the mirrors, bearing stamped "RR" logo.
-1 cover for the underside of the tail.
-Required hardware
Note: Does not fit 2023-on M1000RR.
BMW Motorcycles S1000RR (20-) M Race Cover Kit
BMW Original Parts