---
46717694557 + 46717694558 + 46717683137 x 2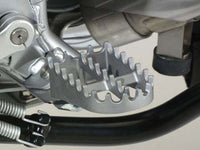 Provides the rider better grip and more control over the motorcycle when standing upright on the pegs for off-roading.
Highly alloyed special steel with 13% chrome. Provides optimum blend of strength, toughness and freedom from rust.
The platform for the rider's foot is approximately 2.5 cm wider than the standard footrest, in other words almost double the width. The platform is also approximately 2 cm longer.
The wider footrests are substitutes for the standard footrests and use the same attachments as the standard units.
Easy install. Includes replacement springs.
*Also fits R1200GS ADV (08-on) as a stock replacement peg.
BMW R1200GS (08-12) Wide Enduro/ADV Footpeg Kit
BMW Original Parts