---
77448523742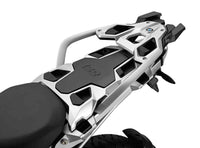 Ride solo!? Replace the passenger seat with this kit and have a flat surface for whatever, or remove the luggage rack of your GS and move your Vario topcase forward!
-Luggage plate made of hard wearing black plastic.
-Installs in place of the rear seat.
-Better weight distribution with items of luggage set closer to the vehicle's center of gravity.
-Height matches the saddlebags: cases and plate together form a large, flat surface for carrying bulky items.
-Easy access to standard on-board toolkit under hinged plate (with large GS logo).
-Not in combination with Rallye seat.
BMW R1250GS|ADV|R1200GS WC (13-)|ADV WC (14-) Pillion Luggage Plate Kit
BMW Original Parts