---
77118564693 + 77118356747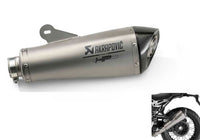 -Slip-on silencer with short connecting pipe that offers robust sound and weight reduction with an exclusive design.
-All-titanium (jacket, connecting pipe and internals) with carbon end cap.
-Weight of silencer: 4 lbs.
-Logo with clearly visible HP inscription laser-etched into side face.
-Euro 4 emission standards.
Note: Does not fit early RnineT, 2017-on only. For low mount WITH passenger seat, connector pipe and bracket included.
BMW RnineT Series HP Akrapovic Slip-On Exhaust
BMW Motorcycles Original Parts