---
77498562631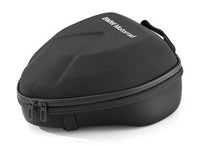 Compact, waterproof, fitting perfectly and stable – the passenger seat-mounted bag is all this. With a storage capacity of 2.5 liters, expandable to 5.5 liters, just the right size for a day trip.
-Waterproof main compartment, approximately 2.5 liters, expandable to approximately 5.5 liters, inner bag with roll top
-Hard-wearing shell material made of polyester/polyurethane
-Zip fastener around three sides provides good accessibility
-Bottom is molded EVA, shaped for a snug fit on the rear seat, and with an anti-slip coating
-Secure and fast three-point attachment
-Practical carry handle
-BMW Motorrad logotype on lid
-Dimensions (LxWxH): approx. 31x26x10 cm
-Color: black
Fits 2015-2019 S1000RR, 2014-2020 S1000R. Dimensional weight listed.
BMW S1000RR (15-19)|S1000R (14-20) Rear Softbag (Small)
BMW Motorcycles Original Parts