---
71607715830 & 71607715836-01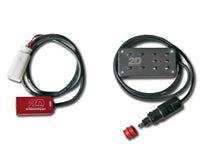 Infrared transmitter and receiver kit for keeping accurate lap times at the track, and of course, rubbing your buddies noses in it!
A Laptimer can optionally be connected to the HP instrument cluster for use on the racetrack.
The HP instrument cluster can be retrofitted as an accessory. Laptimer function: The HP instrument cluster offers the opportunity to record data such as maximum, minimum and average speeds, lap times, engine revs, etc., of up to 100 race laps.
The individual race laps must be delimited from each other for this purpose:
- Without a Laptimer the rider must manually acknowledge each lap start by pressing the SET button.
- There is no manual acknowledgement when the Laptimer is used. The laps are recorded automatically using an infrared receiver on the motorcycle and an infrared transmitter positioned on the racetrack.
Advantages:
- Absolutely exact delimitation of the individual laps.
- Increased convenience and safety for the rider (no distractions).
Infrared receiver:
- Weatherproof housing.
- Connected to the free plug of the accessory wiring harness. The connection is easily accessible - the infrared receiver can be easily removed at any time for anti-theft protection purposes.
Infrared transmitter:
- Weatherproof plastic housing.
- Connecting cable for power supply with plug for cigarette lighter.
- Range of infrared transmitter: up to 65 feet.
One infrared transmitter can be used by several riders (each having an infrared receiver).
It is recommended that only one infrared transmitter be used on the racetrack at any one time as otherwise incorrect lap times may be recorded.
There are several power-supply options for the infrared transmitter:
- Connection to a (removed) motorcycle battery: the charger adapter lead is also required in addition to the motorcycle battery for this purpose. This lead can be clamped with its two alligator clips to the battery terminals and can be added below.
- 12V power pack from electronic retailers. Infrared-transmitter plug matching the cigarette lighter (with adapter) or matching the motorcycle power socket (without adapter).
Installation instructions and instructions for use on CD.
BMW S1000RR Lap Timer Kit
BMW Original Parts