---
17101497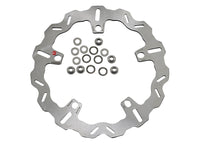 Traditional WAVE® fixed disk for replacement of original OEM disk.
-more braking grip > highly reactive
-less weight > better handling
-high heat dissipation > stable power in all conditions
Outer and inner diameter of the disk have a non-round design that enables better radial expansion of the rotor under extreme heat conditions. Moreover, piercing holes are replaced by edges specifically designed to grow brake pad regeneration process.
Fits 1998-2000 R1100S, R1150GS, R1150GS Adv, HP2 Enduro, 1999-2000 K1200LT, K1200RS, 2002-2004 K1200GT, R1200C, R1200CL, 2005-2012 R1200GS, R1200GS WC, 2006-2014 R1200GS Adv, R1200GS Adv WC. Dimensional weight listed, general picture shown.
Braking WH7003 Wave Front Rotor
Produced by Braking of Italy