---
075078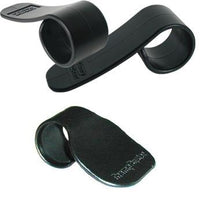 The CrampBuster provides a way for comfortable throttle control and dramatically reduces the wrist fatigue often caused by long rides. No tools are required for installation. Just spring it open and slip it on.
Try it: You'll like it. We guarantee it! RyKel has sold tens of thousands of CrampBusters world-wide — with just as many satisfied customers!
Benefits of Using the CrampBuster:
-Full throttle control with a relaxed hand
-Reduces hand fatigue and cramping
-Comfortably fits your hand
-Easier throttle operation
-Eliminates throttle "creep"
-Doesn't lock throttle on
Why Buy a CrampBuster?
-More control over cruise control, especially in town, winding roads, or cruising with your buddies.
-It's guaranteed - if it breaks we'll replace it.
-Crampbuster is the original patented design, not a copy or an imitation. When you buy a Crampbuster you are supporting the person who invented it!
-The CrampBuster - the "original" and affordable motorcycle cruise control!
Note: Standard, 1 1/8" in diameter.
CrampBuster Cruise Assist
Produced by Rykel/Crampbuster of USA