---
KAO.CCF600C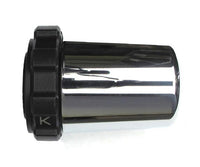 Kaoko Cruise Controls are purpose-built for a variety of motorcycles over 600cc. It consists of a friction nut that is integral with a replacement handlebar-end weight.
Features
-Greatly reduces rider fatigue and strain on hand and wrist
-While cruising, rider is able to remove hand from throttle grip, throttle opening will remain as set
-Very simple to operate, even with heavy winter gloves
-High quality, compact and durable design, super smooth action
-Takes less than 5 minutes to fit
-Very little maintenance is required
-Less wear and tear on throttle cables and linkages
-Can result in reduced fuel consumption
Does not fit R1200C, R1200CLC, or other models with end caps.
Kaoko R1200C|R1200CL Throttle Lock
Produced by Kaoko of South Africa