---
38070278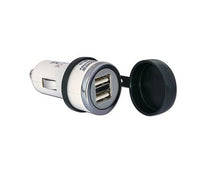 Fast charge your phone, GPS, camera & tablet from a standard cigarette lighter power socket.
For a USB-powered device demanding 2100mA fast charge or two devices that accept up to 1000mA each.
-Includes Apple "handshake" for charging all iOS devices
-Connects to a standard AUTO Ø21mm power socket.
-Power delivered via 2 x USB sockets located directly on the charger.
Premium accessory designed by TecMate. 3-year limited warranty.
OptiMate Dual USB Motorcycle Cigarette Socket Adapter
Produced by Tecmate of North America