---
DS110213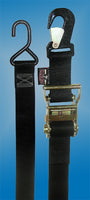 PowerTye Big Daddy's 2" 7,400 lb. test Ratchet Tie-Down This is the "Strongest Motorcycle Tie-Down in the world! If you want the BEST, this is it.
-The Ultimate tie-down for transporting your motorcycle.
-Feature 7,400-lb. test nylon and 2,600-lb. rated assembly.
-2" wide with a choice of quick-lock buckle or ratchet.
-Available with vinyl-coated snap-hook ends with or without sewn-in -Soft-Tye, or vinyl-coated snap hook with 3/8" S-hook bar end.
-Measure 61/2' long.
-Sold in pairs.
-Made in the U.S.A.
PowerTye Big Daddy's 2" 7,400 lb. Ratchet Motorcycle Tiedown Set
Produced by PowerTye of USA