---
RG.CP0382BL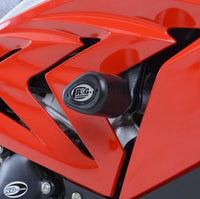 Constructed of super solid machined steel, aluminum, and high-density nylon, R&G frame sliders provide serious protection and high quality fit and finish. R&G "Aero" sliders have an aerodynamic teardrop shape for a sleeker look than traditional circular slider pucks.
The protector itself is machined from High Density Polyethylene (HDPE) – chosen because as it wears it actually helps to slow a sliding bike. The bolts used are milled from de-embrittled steel; enabling the unit to perform as a shock absorber which helps the unit bend instead of snapping or remaining rigid - which can result in twisting the mounting point.
R&G Aero Bobbins are a stylish, aerodynamic, teardrop shaped bobbin improving on the original good looks of our highly successful and popular standard round bobbins. Fitted with a removable end cap which hides the bobbins fittings, this sleek new design looks superb and is a winner on road and track!
R&G Aero Bobbins from R&G Racing - the market leaders in crash protection and the only insurance approved crash protectors on the market. As used by some of the worlds top race teams, what better endorsement do you need! R&G Racing – innovation not imitation!
R&G Racing S1000RR (15-18) Aero Crash Protectors
Produced by R&G Racing of United Kingdom