---
219185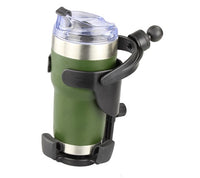 Designed for bigger insulated cups, plastic water bottles or even your reliable steel coffee cup, the Level Cup™ XL keeps your drink upright, regardless of the conditions. This kit includes a Level Cup XL with a B-size RAM® Mounts ball directly attached. The oversized opening cradles the biggest of gulps and the adjustable bottom piece moves up and down to accommodate taller cups. The rubber feet flex to fit various sized cups as well. RAM® Mounts has refined the self-leveling action to keep your cups full.
Common Beverage Sizes:
- 12oz Cans
- Water Bottles
- Insulated Cups
- 32oz Containers (Nalgene, Pelican, Contingo, Hydro Flask)
Compatible Dimensions:
Width Range: 2.6" - 3.5"
Height Range: 3.75" - 11"
We've gone "a la carte" with most of our RAM pieces, build your mount however you want it! Please let me (tom@sierrabmw.com) know if there's something you'd like that isn't listed, or if you have questions about how to build your personal mount.
RAM Mounts Level Cup XL
Produced by RAM Mounts of USA