---
WS-618-19-IHFR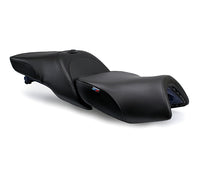 Specifically developed for the K1600GT and GTL, these motorcycle seats have been engineered from the bottom up to increase the width of the riding platform by over 20%. This larger seating area provides greater comfort without compromising the riding experience and maneuverability.
The seats start with a precision-molded, lightweight PolyTec base pan and feature our unique support extensions, providing critical additional support that the OEM seat base pan lacks. These base pan extensions combined with our premium Gel-Free Super Cell Atomic Foam are the key to support and comfort, without the thermal retention and extra weight of gel. The improved foam suspension and added support result in better distribution of pressure over a much greater seating area. Additionally, both the ergonomically correct riding platform and the dished contour minimize the pressure points that cause fatigue and pain.
These World Sport Performance Seats have the following features:
-Regular or Low (approximately 1.2" lower) Height Driver's Seat
-PolyTec light-weight, precision engineered seat pans that are over 20% wider than stock for extra support.
-Super Cell Atomic Foam with enhanced shape for incredible long-distance comfort, available in two front seat foam heights.
-NEW wider Rear Passenger Seat is now comparable to OEM GTL rear seat width!
-Additional under-the-seat storage compartment with hinged door under the front seat.
-Front seat functions just like stock in low and high settings. The two-piece design is also compatible with the GTL model, offering GTL owners more flexibility.
-Durable, comfortable and maintenance-free CarbonFX vinyl inserts.
-NEW! Fine Wire with Embedded Flex Pad Technology. The heating element is molded in just below the foam surface for stability, and it is designed to flex with the riders' weight and pressure to ensure that comfort and suspension are not compromised - a Sargent exclusive!
-Heat included standard on front and rear seats with BMW compatible plugs that integrate seamlessly with your OEM on-board heat controls. No splicing required.
-Designed to work with your stock key. No extra keys to carry.
The World Sport Performance Seats for the K1600GT and GTL offer a wider, slightly dished seating contour to minimize pressure points, and slightly better reach than the OEM seat heights. Both the Rider and Passenger Seat Pan has been widened by approximately 20%, offering more foam support and passenger comfort. NOTE: Actual "seat to ground" dimensions may vary depending on rider weight, anatomy, and motorcycle suspension settings.
Choose standard or low height above, built to order which takes approximately 2-3 weeks, dimensional weight listed.
Sargent K1600GTL|K1600GT World Sport Seat
Produced by Sargent of USA