---
08100200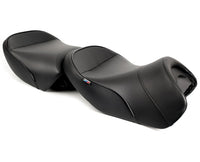 At Sargent's, revolutionary thinking is an everyday process. Never satisfied with the status quo, our Research and Development Team is constantly striving to bring you the ultimate in high-performance, distinctive seating and upholstery products.
This World Sport seat is made with our lightweight PolyTec seat pan, Super Cell Atomic Foam suspension, and dazzling, color-coordinated upholstery.
-Super Cell Atomic Foam for incredible driver and passenger comfort.
-Improved foam shape for long-distance riding (wider, slight dish contour with level riding platform to eliminate forward slide into the tank).
-Precision-engineered PolyTec seat pan construction - fits and functions like the OEM stock seat.
-Completely compatible with the 3-way seat height adjustments.
-Built-in storage container under passenger / rear seat.
-Special "low" version available for riders with 29" or lower inseam.
Dimensional weight listed.
Sargent R1150RT|R1100RT World Sport Seat Set
Produced by Sargent of USA