---
08101854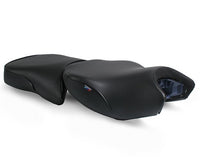 Continuing in the tradition of meticulously designed and produced seats, Sargent is pleased to offer the World Sport Adventure Touring Seats for the R1200GS and Adventure Water-Cooled models.
Utilizing the latest digital modeling, computer design (CAD) techniques, precise manufacturing processes, and superior materials, each World Sport seat pan is precision-molded for superior fit and outfitted with high-quality hardware. The R 1200 GS seats feature our lightweight yet durable PolyTec base pans with features that go far beyond the stock seat.
Gel-Free! Superior comfort and suspension without the thermal retention and extra weight of gel. Our Super Cell Atomic Foam suspension is our own unique and proprietary blend of resilience, firmness, and vibration-absorption qualities - making it well suited for maximum long distance comfort.
The World Sport Seat for the BMW R 1200 GS / GSA features our marine-grade, UV-stabilized, color-coordinated upholstery - hand-sewn specifically to maximize the qualities of the Super Cell Foam. In addition, it is virtually maintenance free.
These World Sport Adventure Touring Seats have the following features:
-Gel-Free Super Cell Atomic Foam and enhanced shape with significantly increased width and lateral lift, providing far better distribution of pressure over a greater area.
-Zone Suspension Technology featuring hidden central pressure relief channel plus a special internal layer that absorbs and diminishes high pressure points.
-Light-weight precision made two-piece design functions just like stock, allowing for front seat dual height adjustment and rear seat front to back adjustment.
-Both the front and rear newly designed Sargent seat base pans have 20% added width (compared to OEM), giving critical structural foam support for an incredibly comfortable riding experience.
-Regular Height and Low Version front seats available.
-Front seat features under-seat hinged door storage compartment and build-in LED flashlight holder. Sargent LED flashlight included. Front seat also features built in OEM Off-Road Performance Chip holder, just like stock.
-Rear seat features under-seat hinged door storage with integrated OEM tool holder accommodation.
-Offered with durable, comfortable, maintenance-free CarbonFX vinyl seating inserts and black trim.
-Front seat is compatible with BMW pillion luggage plate (P/N# 77-44-8-523-742) and Sargent EM-5 Rider's Backrest.
Not one, but two choices.
The World Sport Adventure Touring front rider's seat for the R1200GS is available in two seat heights:
The Regular Version, which is comparable to the OEM high seat, and the Low Version, for improved reach to the ground.
Stock Regular: 33.5" - 34.3" Low: 33.1"-32.3"
Sargent Regular: 33.5" - 34.3" Low: 33.1"-32.3"
Fits R1250GS, R1200GS 2013-on, R1250GS Adventure, and R1200GS Adventure 2014-on. Dimensional weight listed.
Sargent R1250GS|R1250GSA|R1200GS WC|R1200GSA WC World Sport Adventure Seat Set
Produced by Sargent of USA