---
SG1066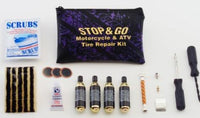 One kit covers everything!
This kit will take up almost no room in your pack or pocket and is a safe, effective way to get your tire up to par in a hurry.
-(5) 4 1/2" "On the Wheel" Rubber Insertion Strips
-(3) 1 1/4" Round Vulcanizing Patches
-Thumb Buffer
-Split-Eye Needle Insertion Tool
-Reamer/Rasp Tool
-Valve Cap with Core Remover
-Replacement Valve Core
-Tube of Rubber Cement 1/2" fluid oz.
-(4) Steel Canisters containing 16 grams of 100% pure high-velocity CO2 gas
-Tire Valve Adapter with brass fittings
-Waterless Hand Cleaner & Towel
-Full Instructions
-Compact Vinyl Zippered Pouch (5" x 8" x 1")
-Weighs: 14 oz.
Note: This item can only be shipped by truck/ground. Due to FAA regulations any item containing CO2 canisters and/or rubber cement cannot be shipped by air. Therefore it can only be shipped by truck. During checkout please be sure that you only select ground shipping. We apologize if this causes any inconvenience.
Stop & Go Tire Repair Kit (Tube or Tubeless)
Produced by Stop & Go of USA