---
03640001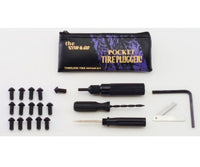 This revolutionary new device easily installs mushroom shaped rubber plugs into all tubeless tires while staying on the wheel. The Plugging device 'drives' the plug into the hole with a turning of the hex wrench. The plug expands under pressure to fill the punctured area. A firm pull on the stem with your pliers seats the mushroom head on the inner wall allowing no air to escape. This technology insures maximum reliability while reducing your downtime in any situation.
Contents:
Nozzle
Tire Plugging Device
Probe Tool
Reamer/Rasp Tool
Hex Wrench
(15) Mushroom Plugs (5/16" diameter shaft x 3/4" length stem)
Retractable Razor Knife
Extra Zip Lock Bag
Laminated Instructions
Vinyl Zippered Pouch (7.5" x 3.5" x 1")
Weighs: 12 oz.
Stop & Go Pocket Plugger Tubeless Motorcycle Tire Repair Kit
Produced by Stop & Go of USA