---
1075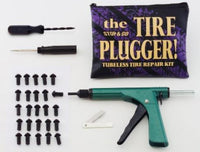 Flats Happen! Most vehicles run on tubeless tires these days. Regardless of thickness or pre-sealant additives they're all vulnerable to being punctured. Now you can experience the skill of a professional's hand and the thrill of saving time and money. Your tires can now be easily plugged on or off the wheel with this new shop style tool called the TIRE PLUGGER.
The Gun is a spring loaded device that 'drives' the plug into the hole. The shaft of the plug expands under pressure to fill the puncture. The mushroom head of the plug seats on the inner wall allowing no air to escape. This insures maximum reliability from its' revolutionary design. The vinyl zippered pouch measures 6 1/2" x 9" x 1" and weighs 1 lb. 14 oz. It's easily stored - so you're always prepared.
NOTICE: The accepted industry standard recommended by the RMA (Rubber Manufacturers Association of America) requires that an injured tire be demounted, the interior inspected, the injury drilled out, and a plug and repair unit installed by a trained professional.
Stop & Go The Tire Plugger - Tubeless Motorcycle Tire Repair Kit
Produced by Stop & Go of USA