---
050-0913 & 070-0573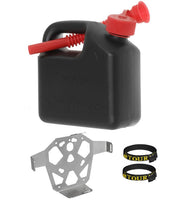 This Touratech Zega Pro Fuel Can mount is made to hold our 3-Liter Fuel Can securely to your motorcycle pannier, or any other flat surface. When used along with the Touratech Quick Release Base Plate, this mount can be quickly and easily removed when not needed.
-Made of laser cut stainless steel
-Use caution when mounting near your motorcycle's exhaust system!
Finally a clean solution for transporting extra fluids on your motorcycle.
This 3-liter fuel can from Touratech allows you to safely transport the liquids you need for your adventure - such as oil, water, or even extra fuel. Pair this fuel can with our Zega Pro Fuel Can Mount and you'll have a great storage solution for the extra liquids you need on your motorcycle.
-Capacity: 3 Liters (.79 Gallons)
-Dimensions (l x w x h): Approx. 8.25 x 4 x 8 inches
-Color: Black (red cap)
-Opening is big enough for Service Station fuel nozzles
-Child-proof cap
-Comes with flexible filler spout
-Spout does not store inside fuel canister (we recommend using the spout only for automotive use)
Touratech 3 liter Fuel Can and Mount
Produced by Touratech of Germany