---
051-0560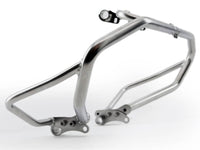 Touratech Crash Bars for the BMW R1200GS offer the ultimate in engine protection. Engineered to transfer impact force to the strongest parts of the chassis, the Touratech Crash Bars protect the cylinder heads and engine case from impact ensuring that your motorcycle trip continues on as planned.
Touratech Crash Bars are precision crafted from high quality 25mm (1") stainless steel. The stainless material ensures that these bars will never show signs of rust or corrosion.
The design employs a heavily braced cross-connect bar which creates a robust structure to protect the engine. The stainless steel bars are bead blasted and electro polished for a refined finish that compliments the overall look of the bike. A Black epoxy-coated finish is also available that looks especially good on the Triple Black R1200GS models.
Touratech Crash Bars are designed to be narrow and as compact as possible on the R1200GS while still protecting the engine.
Touratech Crash Bars are the choice of motorcycle adventures like Helge Pedersen of GlobeRiders and the world record setting duo Simon & Lisa Thomas. Our crashbars protect motorcycles in the harshest conditions in the farthest reaches of the globe year after year.
Easy to Install!
Can be fitted with the Touratech Aluminiu Cylinder Guards.
-#1 Selling crash bar for the BMW R1200GS
-Easy to install
-Heavy-duty 25mm (1") Stainless Steel construction
-Available in bead blast electro polish stainless, or black epoxy-coated stainless finish
-Fits 2005-2012 R1200GS
-Made at Touratech factory in Germany
-Does not fit with BMW OEM head protectors
-Does not fit R1200GS ADVENTURE
-Weight: 10.9 lbs
Dimensional Shipping Weight listed
Touratech R1200GS (05-12) Crash Bars
Produced by Touratech of Germany