---
4901-901229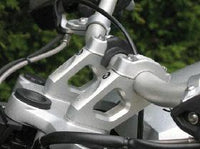 This handle bar adapter brings the bars 20mm higher and 40mm closer to the driver for a considerably more relaxed riding position.
The adapter is silver anodized.
Not for use on the R1200GS Adventure model as the handguard clamps will hit the tank at "full lock" of the handlebars. It is not necessary to change the brake cable with this modification.
Verholen R1200GS (08-12) Bar Risers
Produced by Verholen of Germany