---
12V30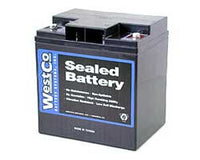 Finally, a sealed battery that is built specifically for your BMW! Unlike most aftermarket attempts, this battery has enough power to run your bike and the ABS computer.
No more pulling the tank to check the fluid levels, no more mess!
Setting the standard for over 15 years, WestCo's Classic AGM batteries deliver value and reliability to modern powersports enthusiasts.
-Competitively priced
-Spill proof and leak resistant design
-Vibration resistant
-Covers most popular models
-Standard shipping applies, not hazardous
-Low self discharge
-Made in USA
12 month free replacement warranty
Fits: Early K bikes. Will also fit AirHead units with "large" 25Ah battery. Dimensions 6 ½" x 4 7/8" x 6 7/8"
WestCo 12V30 Classic AGM Battery for BMW Motorcycles
Produced by WestCo of USA