---
WR-089099107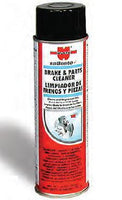 Cleans just about anything, formerly known as contact cleaner, Wurth Brake/Parts Cleaner is the kind of thing you don't want to run out of around the garage!
We use this item at Sierra BMW Motorcycle every day!
-Hexane Free
-Blasts away oil, grease, dirt and grime
-Fast drying, leaves no residue
-Contains no chlorinated solvents
14.39 oz. aerosol
Note: Contents under pressure must be sent via surface shipping only. For North American customers, this means your order has to be shipped via ground service. For overseas customers, this item will be removed from your order. Sorry, no exceptions.
Wurth Brake and Parts Cleaner
Produced by Wurth of Germany