---
Z2362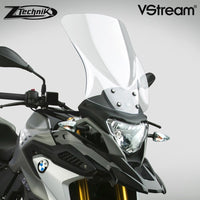 ZTechnik® now has VStream® Windscreens for the new BMW G310GS!
VStream® revolutionizes windscreen performance! The advanced "V" shape and dimensional contours push the wind vortex out and away from the rider's helmet, resulting in a peaceful, quiet environment. This improvement is notable for the passenger as well.
The Z2362 is a tall-sized adventure touring screen, and is a great choice for taller G310GS riders or for those planning a long tour.
State-of-the-art 4.5mm Quantum® hardcoated polycarbonate gives this VStream windscreen outstanding clarity and strength characteristics unmatched by any windshield maker worldwide.
This exclusive combination of Quantum and polycarbonate is 30X more scratch-resistant than acrylic materials, has better UV life, chemical resistance, and optical definition, and has superior crack and impact resistance.
Covered by ZTechnik's 3-Year Warranty against breakage!
ZTechnik® is a brand that specializes in high quality motorcycle accessories designed exclusively for BMW Motorcycles. The name itself is from the German "Zubehör Technik," which translates to "technical accessories" in English. The ZTechnik philosophy is to closely follow design principles established by the original equipment designers, produce only the highest quality parts possible, and enhance the rider's total experience.
Height: 19.38" (49.2cm)
Width: 14.75" (37.4cm)
Note: Hornig G310R|G310GS Mirror Extensions required for mirror clearance at full lock.
ZTechnik G310GS VStream Touring Windshield
Produced by ZTechnik of USA