---
Z2213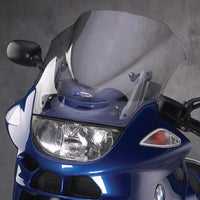 Looking for a little more wind protection? ZTechnik offers a light tint Replacement Screen with an additional 3.25 inches in height over the OEM windscreen.
Stock rake adjustment is maintained with ZTechnik Replacement Screens, and the wind management is greatly improved. And, of course, they look great!
Fits 2002-04 K1200RS and 2003-05 K1200GT models. Uses original mounting hardware.
Riding enthusiasts have used ZTechnik Windsceens for many years. Try one on for size!
Dimensions: 21" tall, 18.5" wide
ZTechnik K1200RS (02-04) Light Tint Tall Windshield
Produced by Z Technik of USA