---
18101801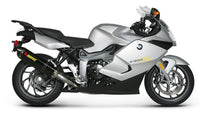 Sale
Akrapovic Racing and Evolution systems are designed for racing-oriented riders who demand maximum performance. Both systems feature exceptional production quality, hi-tech materials and of course increased engine performance. Their quality and reputation are further augmented by the use of the high-tech HYDROFORMING production process to form the header tubes. Beside performance you will also benefit from great weight savings, up to 5.4 kg if compared to stock system. The change will be also visual as our HEXAGONAL muffler perfectly fit the exterior line of the aggressive roadster and add a clean racing image. We offer titanium or carbon-fiber muffler outer sleeves to satisfy each specific taste. Evolution system is made entirely of our exclusive high grade titanium while Racing system uses stainless steel header tubes and link pipe. Systems are not homologated and are developed only for race track use.
PERFORMANCE
Measurements of the Akrapovic RACING system on the BMW K1300S (without muffler insert):
Power & Torque: the exhaust system modification with the RACING system results in a major boost in performance, delivering a massive 168.2 HP at 9900 rpm on back wheel. But the increased power isn't available just at the top of the range; the system shows its quality already from 3500 rpm up through entire rpm range. Max. increased power between the Akrapovic and the stock system is 9.5 HP at 9900 rpm. Besides this, the torque is substantially higher in a lower rpm area already at 2500 rpm and from middle to high rpm area.
Dimensional shipping weight is listed.
NOTE: This item cannot be shipped to California, sorry.
Akrapovic K1300S|K1300R Racing Carbon Exhaust System
Produced by Akapovic of Slovenia