---
18113365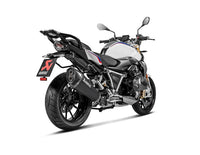 Sale
Slip-Ons represent the first step in the exhaust system tuning process, and they offer a great balance between price and performance. Change the nature of your bike by adding more power, improved performance, and the unique Akrapovič sound. Everything packed in stylishly designed Slip-On exhaust systems. The result of taking design very seriously is a beautifully crafted exhaust system.The muffler outer sleeve is made of titanium, while the end cap is made of carbon fibre. Race-proven materials. Exhaust system is compatible with BMW side cases.
POWER: +2.9kW at 8200 rpm
TORQUE: +3.2Nm at 3800 rpm
WEIGHT: -.5kg
Dimensional weight listed, EPA & CARB approved.
Akrapovic R1200RS WC (16-on)|R WC (15-on) Slip-On Exhaust - Black
Produced by Akrapovic of Slovenia