---
71607696299 +71607696300 + 51257688566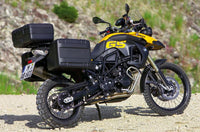 Flexible storage space with BMW Vario panniers! The well-known, variable-volume cases (left: 19-29 liter, right: 28-38 liter) have been made to fit the F800GS, F700GS, & F650GS twin models. Thanks to the carefully conceived carrier system, the cases can be attached and removed in a moment.
Left, right, and mounts sold separately (choose above), locks included.
Please note: Dimensional shipping weight is listed.
WE'LL EVEN KEY YOUR LOCKS FOR FREE! JUST GIVE US A SHOUT AND SEND US YOUR SPARE KEY!
BMW F800GS|F700GS|F650GS2 Vario Saddlebag Kit
2 Year Warranty
BMW Original Parts