---
GS911USBOBD2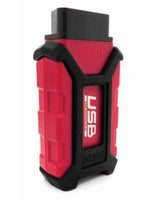 -Works on Windows PC only, does not work on Mac or mobile devices.
-Will read and clear fault codes on an unlimited number of bikes.
-Is limited to 10 VIN's for service functions, such as resetting service reminders.
-Cannot be upgraded to unlimited Pro model.
-Has OBD-II connector to fit all 2017-on models with OBD-II diagnostic port.
Note: Fits 2017-on BMWs, if you have a 2016 or earlier BMW you will need the GS-911wifi Adapter Cable for Pre-2017 BMW Models.
GS-911usb BMW Motorcycles Diagnostic Tool
Produced by Hex Code of South Africa