---
61212346800 or 12V19AS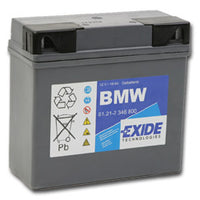 Finally, a sealed battery that is built specifically for your BMW! Unlike aftermarket attempts, this battery has enough power to run your bike and the ABS computer. No more pulling the tank to check the fluid levels, no more mess!
Fits: All Pre-2005 R1100 and R1150 except non-ABS R1100S, all R1200C, R1200RT, K75 series, K1100RS/LT, K1200RS/GT, K1200LT, K1200GT2, and K1300GT, 2012-2016 K1600GTL, 2012-2016 K1600GT. Will also fit AirHead units with "small" 19Ah battery. Please confirm the battery you have as BMW will sometimes list more than one battery per machine. See the Shorai LFX21L6-BS12, WestCo 12V20P, WPS HJ51913-FP-IL for other options.
-NOTE: Typical "flooded" lead-acid battery chargers can damage gel batteries. Use only chargers designed for charging and maintaining gel batteries.
2 year warranty
BMW Motorcycles Gel Battery 12volt 19AH
BMW Original Parts