---
71607694184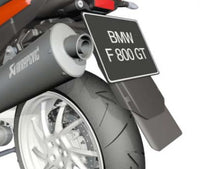 -Mud guard extension made of black plastic (polyamide PA 6).
-Effective protection for the rear of the motorcycle against spray kicked up by the back wheel, particularly when surface conditions are wet and dirty.
--Rear light and license plate remain much cleaner, and the same applies to top case and other items of luggage.
--Passenger's suit also remains cleaner.
-Length (individually adjustable): The mud guard projects a maximum of 4 in. past the bottom (tip) of the license-plate carrier.
-Supplied complete with attachment material and installation instructions.
BMW F800GT Rear Spray Guard Extension Kit
BMW Original Parts